Many personality assessments tools share as much as 98.5% of the same DNA. Of course, we share 98.5% DNA with chimpanzees. The difference is the consultant you're working with.
Allied Consulting is professionally trained on how to effectively assess personalities in the workforce. Typically Allied works with CEOs, executive leadership teams, and high-capacity employees to uniquely assess and develop their potential both as individuals and as part of a cohesive team.
Allied Consulting is an OAD Certified Partner providing unique access to:
an online Personality Assessment tool
an individual, one-on-one feedback and
a confidential interview to develop an action plan
Special Offer
Whether you're using Personality Assessments like Predictive Index, DISC, Myers-Briggs, or the Culture Index®, Allied will train and support your firm using OAD at the current cost of your license, a $4,000 savings.
The OAD assessment evaluates the "whole person" and identifies multiple possible job roles or functions that allow each person to flourish. Compared to other personality assessments, OAD does not limit the individual to only one job function or role.
The following is a visual summary of the range of personality traits measured and assessed by the OAD survey.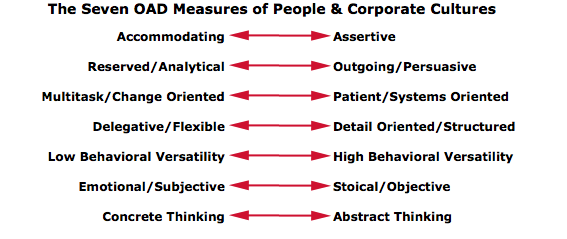 If you or your management team are ready to elevate your effectiveness, significantly improve your inter-relationships as a "true team", contact John Howman at (262) 724-6668 to get started on your personality assessment and receive a personalized action plan to unlock significant results.